Staff Week
8th Erasmus+ International Staff Week 2023
We are pleased to invite you to the 8th Erasmus+ International Staff Week at Palacký University Olomouc, Czech Republic, organized by the Office for Mobility RUP. It will be as a Blended Intensive Programme (BIP) with virtual part on 27 November 2023 and physical part taking place on 4 December - 8 December 2023. The programme we are preparing for you will revolve around the theme of New priorities and challenges in the Erasmus+ programme.
And what exatcly can you look forward to?
Introduction meeting with Palacký University and getting to know each other.
Workshops on inclusion, sustainability, mental health and more.
Czech Language Course.
City tour of Olomouc.
Tour of Palacký University facilities (dormitories, canteens etc.).
Christmas season in Olomouc.
Dinner together and networking.
Fee: none
Number of participants: 25
To ensure as diverse group as possible, the number of participants per institution should not be more than 2.
In case of interest, please fill in the registration form by 22 October 2023 (midnight).
If you need help with decision-making, look at the feedback and photos from previous year below.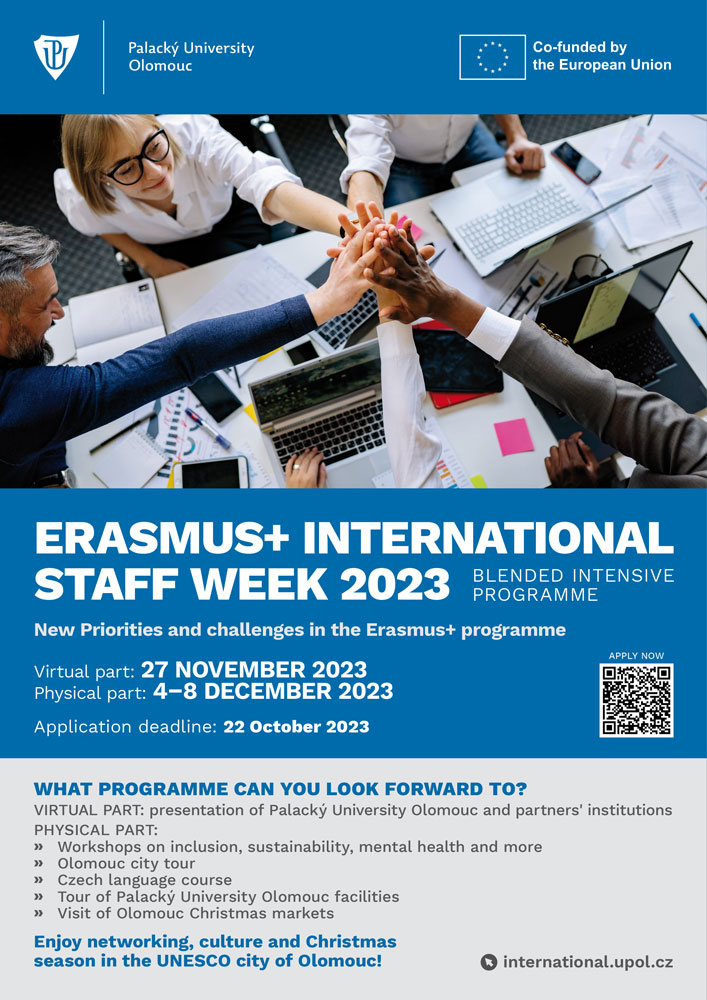 Olomouc (pronounced ollo-moats) has it all, including UNESCO-protected architecture, great museums and energetic, student-oriented nightlife. It (or as the Czechs say: she) had always been among the most important cities of the Kingdom of Bohemia. With its convenient location, ancient university and spiritual, cultural and craft traditions, Olomouc has been for centuries a natural centre of Moravia, attractive to artists, intellectuals and businessmen.
The tourist guide Lonely planet ranges Olomouc among the best-kept secrets in Europe.
Established in 1573, Palacký University Olomouc is the oldest university in Moravia and the second-oldest in the Czech Republic. It is a modern institution providing high quality teaching combined with research and supported by state of the art facilities – libraries, computer facilities, laboratories, etc. With 8 faculties, the university covers fields from health sciences and medicine through modern and classical languages, philosophy, teacher training, sciences, law, and theology. Palacký University has about 23.000 students and over 1800 members of teaching staff, which is the highest density of university students in Central Europe and it makes Olomouc a truly university city.
What did our participants say about the previous E+ISWs?
"Thank you for all exciting events like city game, trip to Kromeriz, Czech language course, tour around the Olomouc and others. These all gave me the feeling that you are best team to organize staff weeks."
"It was great meeting colleagues from other universities, establishing new networks, learning more about how mobilities are carried out at European Universities."
"Thank you so much! This is definitively an addition to my professional and life experience. Keep up the great work!"
"Everything was well-organised, great thanks to the International Relations team :) I enjoyed it a lot!"
"I was able to obtain tips and information very useful for the internationalization of my university."
6th Erasmus+ International Staff Week organized by the Division for International Cooperation was from June 12 - 16, 2022 during which we welcomed twenty colleagues from our partner institutions in Bosnia and Herzegovina, Georgia, Canada Great Britain, Iran or Ukraine.
During five busy days, we not only shared our "know how" with our colleagues through five educational workshops, but we also showed them how exceptional Olomouc as a (not only) student city is! From a visit to the unique Freeshop UP, through an educational tour of the Fort Science and the UP Dormitory and Canteen, to a visit to the nearby Archbishop's Castle and Gardens in Kroměříž, our colleagues had the opportunity to get to know and experience Palacký University, Olomouc and its surroundings in all respects.
Thank you and we look forward to the seventh edition next year!